Why shop with His Love Leads? Because we're different.
Our goal is to point others to the love of Christ and the heart of our Father through our shirts and accessories.  By simply wearing a T-shirt, you can change a life forever by sharing the truth that Christ brings.
(Learn more on the About Us page.)
Like saving money?!
Be the first to know which item will be featured on our T-Shirt Tuesday Sales!
Promotions, new products and sales. Directly to your inbox.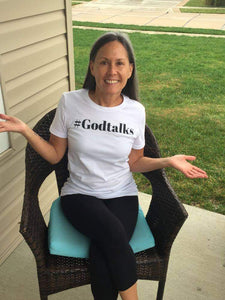 HAPPY CUSTOMER!
We'd love to feature you on our website or social media! Send your photos to maryjo@hisloveleads.com or TAG US when you post on IG @_hisloveleads or on FB @hisloveleads
Whether you're relaxing with friends or sharing on social media, get the word out and remind people that God talks!